CD Projekt Red presented a new stream to show off their 1.5 patch for Cyberpunk 2077. After multiple delays and an announcement that they wouldn't release any new information for a year, the team went into production to fix the game and prepare for the next generation of consoles. Here's everything that they announced.
They began the stream showing game play for the Xbox Series X|S and PlayStation 5, which includes a much smoother framerate and graphical improvement. Also with the new patch, enemy AI has been retooled and weapon control has been tweaked, influencing the combat and difficulty.
Next, the perks system has been reworked, with new abilities available. Gamers are able to chose continue from a previous save, but all perks must be redistributed.
A highly requested time skip mechanic has also been added, where you can select the day of time, which affects the lighting. 
Some quality of life improvements have also been added into the game. One of them is side missions and story missions are now color coded on the map. The side missions are now a green hue while the story missions are yellow. Also, new icons has replaced some of the old ones on the refresh map to make it easier for players to navigate to. 
The fixer missions have also been revamped. This time, you aren't given all the missions upfront. You will have to work for certain ranks to hunt down certain bounties. In addition, the team has created all new rewards that will encourage players to out and play these missions.
The 1.5 patch includes the first new DLC, which brings new weapons, accessories, balancing, and building design for the vendor Wilson. Also, Wilson weapons will be randomized when you go and meet him throughout the game. They didn't reveal much because they want the players to discover the secrets that are in the game.
You can now change V's appearance in the game when you visit the home. All previous options are still in the game with added features for hair, colors, and makeup. You can even add lipstick and beautify your eyes. With the new lighting, you can see more natural looks applied to your character. 
V can finally renovate the apartment. You'll choose from six styles that will offer different colors, furniture, and more. You can also purchase new apartments in different parts of the city. With the currency system being reworked, it makes purchasing easier to obtain.
The 1.5 update is available for Xbox One, PlayStation 4, PC, and Stadia. Also, Xbox Series X|S and PlayStation 5 versions are available now with the 1.5 update. All the updates in 1.5 are around 50gb so it's a hefty upgrade. The PS5 version includes DualSense features and spatial headphone audio/ PS5 and Series X will have Ray Tracing only when it comes to consoles. For PC players, AMD will also be supported. 
If you're curious about the game on next gen, you can download the trial and if you like it, you can buy it digitally. The trial will be available for 30 days and you're given 5 hours to play it. You can read the patch notes below. With that everyone, it seems that CD Projekt Red has brought a new experience to Night City with more updates and content coming in the future.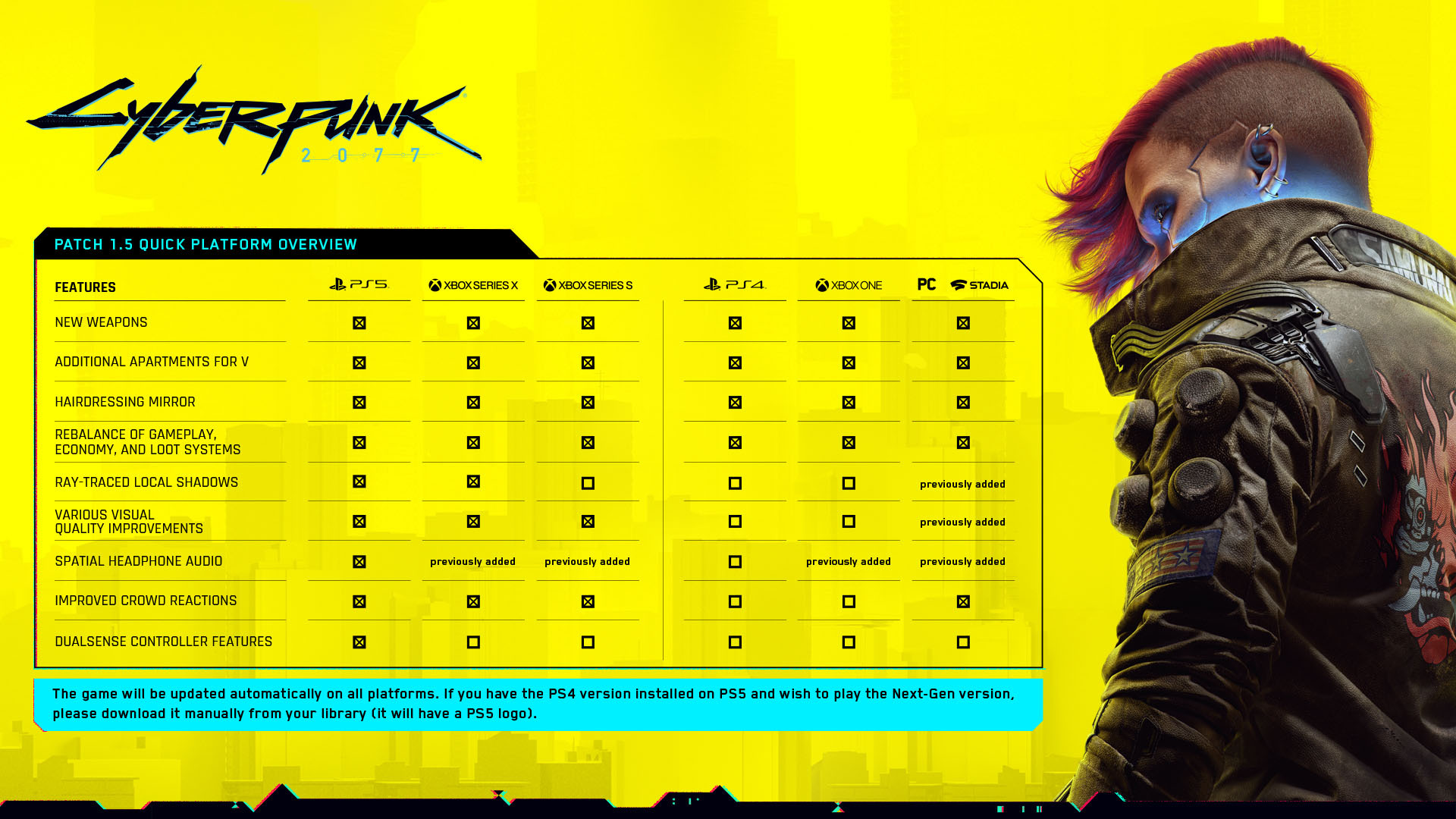 Are you planning to return to Night City with this update? Let us know in the comments or on our Discord and Facebook group.
Images: CD Projekt Red